This is "Q Spot"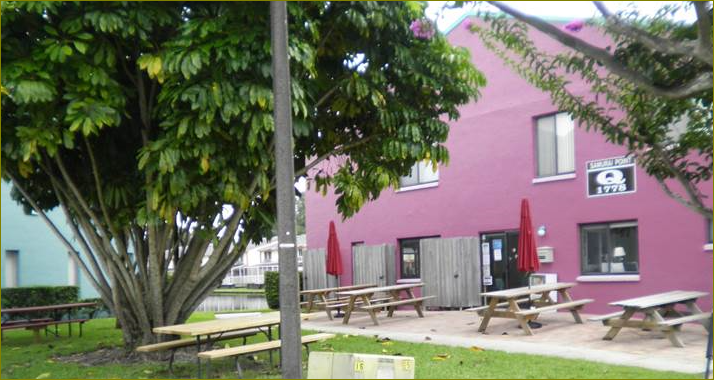 Our Recreational facilities for Paradise Lakes Home and Gardens are located here. Inside you will find the condo offices, a kitchen, restroom and meeting/gathering areas both upstairs and down. Under the Banyan tree are 6 picnic tables for your use.
On a regular basis social gatherings take place. Here are a few: First Friday of the Month Cocktail Party 5:00 – 7:00 PM. BYOB and bring something to share, Wednesday morning coffee 10:00 – 11:00 AM bring something to share and a bring your own mug, The Dive Club, Bridge Club, Women In Nude Recreation, NAPL – Neighborhood Association at Paradise Lakes are just some of the participants. Multiple meetings can be conducted simultaneously.
During Snowbird Season a number of additional activities are available. Please check with the Q Spot manager or secretary for their schedules. The office is generally open during week days 9:00 – 3:00 PM. You can call the office at 813-948-6411.
The Assoc. has free Wi-Fi available along with free business needs like Notary, Fax, E-mail help etc.

View from Recreation Room First Friday Every Month

Full Kitchen supporting some great parties Side entrance, office window & door, meeting room

Recreation area ground floor. Galley alcove second floor with refrigerator & pantry

Recreation area second floor Library and various games available to you