Paradise Sun Pads
Paradise Lakes Home and Gardens
A/K/A P.L.C.A. - Paradise Lakes Condo Association
These pads are available to all residents and their guests of P.L.C.A. to enjoy. All accouterments are common element so are owned by everyone. No one has ownership of any items on any Sun Pad. First come first use only.

By the Bridge to the Island Condos Golf carts & Pedestrians only to the Island Condos!

Sunning and Picnic Peaceful and Great fishing
At last count P.L.C.A. has 15 Sun Pads and 6 stand-alone picnic tables. All are unique and are used by the residents and guests. Other than the picnic tables, all the furniture, BBQ's and the propane are supplied by the residents. Once the items are on the Sun Pad, they become Common Element and belong to P.L.C.A.. All use is by first come first serve.

Between "J" and "S" Buildings At "R" Building

In front if "C" Building Tranquil and Serene

Between "F" and "G" Building At "L" Building
Most all Sun Pads include an outside shower. A few have electric power. All have a picnic table supplied by the Condo Assoc. Most of the pads' gardens are kept by residents.

The "Grill Prison" keep your personal grill here. Sun, Shower and BBQ Au natural
Use it when you like.

Sun Pad located at the end of "V" building. Picnic table in front of "J" building.
The Memorial Garden with the background. Gator carving in upper left.

This huge park area is located in front of N, O and P buildings. The tree line beyond is a dedicated conservation area and will never be built upon. Left photo in front of "P" & right "O" buildings.

These photos are in front of "N" building. The large park continues around to the end of "N" building.

On the east side of "A" building. To the right of the Between "L" and "M" buildings
picnic table is one of two wells owned by PLCA
that is used for the grounds and landscaping.

Between "F" and "G" buildings In front of "M" building
This is Q Spot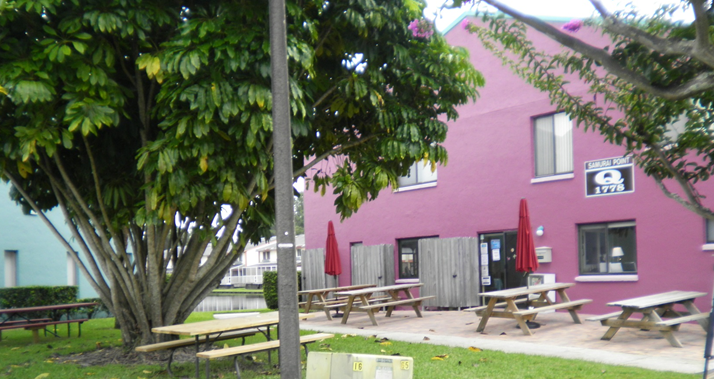 Our Recreational facilities for Paradise Lakes Home and Gardens are located here. Inside you will find the condo offices, a kitchen, restroom and meeting/gathering areas both upstairs and down. Under the Banyan tree are 6 picnic tables for your use.
On a regular basis social gatherings take place. Here are a few: First Friday of the Month Cocktail Party 5:00 – 7:00 PM. BYOB and bring something to share, Wednesday morning coffee 10:00 – 11:00 AM bring something to share and a bring your own mug, The Dive Club, Bridge Club, Women In Nude Recreation, NAPL – Neighborhood Association at Paradise Lakes are just some of the participants. Multiple meetings can be conducted simultaneously.
During Snowbird Season a number of additional activities are available. Please check with the Q Spot manager or secretary for their schedules. The office is generally open during week days 9:00 – 3:00 PM. You can call the office at 813-948-6411.
The Assoc. has free Wi-Fi available along with free business needs like Notary, Fax, E-mail help etc

.
View from Recreation Room First Friday Every Month

Full Kitchen supporting some great parties Side entrance, office window & door, meeting room

Recreation area ground floor. Galley alcove second floor with refrigerator & pantry

Recreation area second floor Library and various games available to you