Paradise Lakes Community Information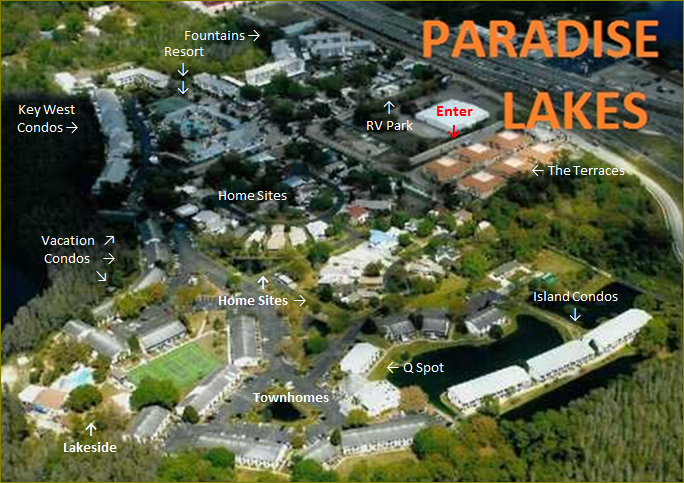 "Never a Stranger in Paradise"
"Naturist Pasco is located in the sweet spot of world-renowned Central Florida. All points on the naturist compass direct you to excitement and adventure every day of the year. Many thousands of fortunate naturists call Pasco County home. Additionally, thousands more visit throughout the year and enjoy their stay with us - naturally." Excerpt taken from the Pasco County government website.
The Paradise Lakes complex is the most diverse of all the nudist resort communities in Pasco. Paradise is a big part of what makes us the "Nudist Capital of the World®" Here is the list of the different subdivisions in Paradise:
Paradise Lakes Home and Gardens A/K/A Paradise Lakes Condo Assoc. – PLCA

The Villages at Paradise A/K/A Phase 3 A/K/A the Key West Condos

The RV Park

The Fountains

The Terraces

The Cabanas at Paradise

Paradise Palms

Exit lane at the far left. Entrance lanes A, B and C. The Terraces at upper left.
Upon your arrival at Paradise Lakes you find our entry and exit gates. There are 3 entry gates A, B and C. one exit gate for all traffic exiting Paradise Lakes.
Entry Gate A is on the left side of the Guard Post and is used by PLCA, The Terraces and Paradise Palms.
Entry Gate B is reserved for members and guests of Paradise Lakes Resort. If the Guard House is unmanned, then members and guests use the Video Call System.
Entry Gate C is used for the residence and guests of Key West Condos, the Fountains and The Paradise Lakes RV Park.
The original section consisting of 3 subdivisions is PLCA (Paradise Lakes Community. The first section is the Vacation Condos, the next is the Townhome Condos and lastly the Individual Home Sites.
The internal road system connects all the communities and Paradise Lakes Resort. This allows the free flowing of residents and guests through out the complex. The Map below of Paradise Lakes will give you a perspective.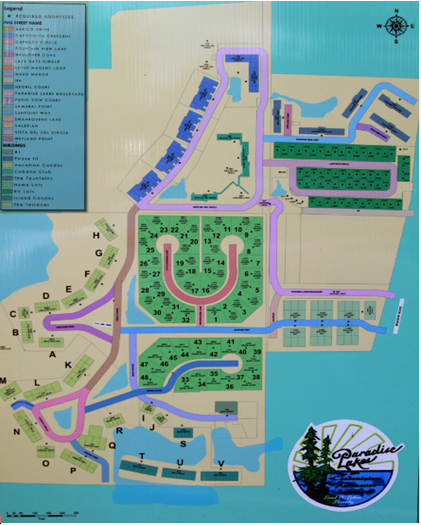 There are a number of amenities offered by the various communities that are enjoyed by all. Many communities have Sun Pads which feature BBQ's, showers, picnic tables and more. The Paradise Lakes RV Park has a wonderful Cabana. Scattered around the community you will find individual Picnic Tables for your use.
As you stroll the grounds you will notice many lovely Garden Areas. Most of these Special Gardens were created and are maintained by the residents. We have a Memorial Garden area to honor and in remembrance of those friends and residents who have passed on.
As our name implies, we do have a number of Ponds and Lakes. Many people fish in a number of the ponds and lakes. You may also want to try the fishing pier or just take in the sun and solitude of this tranquil area. Catch and release is preferred.
Paradise is home to a great variety of wild life. Enjoy this connectivity with nature. One important point to note: Please don't feed the wild life. Nature provided their needs in a way that is healthy for them. The feeding of alligators causes them to connect you as the food you provide. Therefore they will change from being afraid of humans to believing that we are its natural food supply and will become aggressive. Those that feed the gators are giving them a death sentence.
Lastly, we have our own Recreation Room at Q Spot. Many activities are scheduled that you would enjoy. Residents and all guests are welcome.
If you are considering living at Paradise Lakes then I would have you go here. This is a copy of the PLCA Peaceful Co-existence. This will give you a greater insight on condominium living here in Naked Land.
Paradise Lakes Home & Gardens A/K/A PLCA Phase I & II
(PLCA: Paradise Lakes Condominium Association)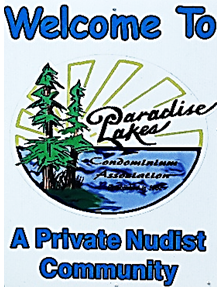 Paradise Lakes' original housing area consists of forty eight individual home sites, Ninety six townhome style condos and villa's with buildings lettered K thru V, and one hundred and thirty six vacation condos with buildings lettered A thru J.
The vacation condos are either on the ground floor with a fully screened lanai or a second floor unit which generally has additional space because of the interior loft. These condo's are comprised of a bedroom, bathroom, living room and a galley kitchen which totals four hundred fifty six square feet of livable space. Many vacation condos have been remodeled with upgraded kitchens, flooring, mirrors, stackable washer/dryer and more.
The townhomes consists of either two or three bedrooms with two or three bathrooms. The condo's have at least two floors in the unit with the Island Condo's providing four tiers of floor space. The square footage varies between thirteen hundred seventy one square feet and fifteen hundred twenty six square feet.
There are two additional condos that were built for the developers of Paradise. These are Q-4 & 5. Each is 5,284 sq. ft. with an indoor pool and spa. They have an elevator to take you to all 3 floors. They are quite dramatic.
The majority of townhomes, except T, U and V, have one bedroom and one bath on the ground floor with an exit door to the parking lot. This arrangement with the bedroom on the first floor near the parking lot can easily lend itself to creating a studio lock out rental enabling the home owner to capture some rental income. This leaves the home owner with one or two other bedrooms on the second floor for the owner's personal use.
There are eight single level villas in building "O" consisting of one bed, one bath, a full size kitchen and bathroom. Total living area is 665 square feet. These units all have screen enclosures.
Additionally, there are forty eight individual home sites. Here you will find a wide variety of site built concrete or wood frame homes and manufactured homes.
Amenities…
PLCA has its own office, located at Q-Spot, with a dedicated manager, secretary and maintenance staff. Amenities include recreation room, fishing pier and sun dock, and fifteen community sunning pads. Many have BBQ's, patio furniture, outside showers and picnic tables. Most of the furnishings and grills on the Sun Pads were donated by the residences and are considered common elements. Therefore, they are available for all the residences and their guests to enjoy. To see a collage of these Sun Pads click here.

Adjacent property was acquired in 1987 on the north side of PLCA allowing expansion of housing and build a new Resort.
Key West Condos…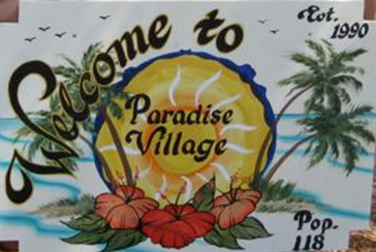 The first new community extension to be built was Phase III and called the "Villages at Paradise" or more commonly known as the Key West condos. They consist of thirty two townhome style condos in four buildings with garages. All these townhomes are multi-level condos with two or three bedrooms in each unit and three or four exterior sun decks looking out over the resort or dense woods and nature preserve. Living space under heat and air range between thirteen hundred seventy one and two thousand three hundred and fifty seven square feet.
Two additional three story buildings in this phase is referred to as the five hundred building. It is equipped with one elevator and two sets of stairs. The condo's in this complex holds a mix of studio and one bedroom condos ranging up to seven hundred twenty four square feet. There are twenty seven total units in this section of Paradise. A small pond with a fountain sits in the crux of this "L" shaped building.

Pond & fountain with BBQ area off pic right All floors both front and back have Lanais
Paradise Lakes RV Park…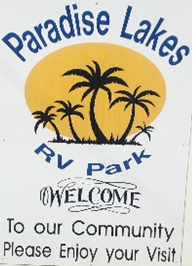 Part of the acquired land in 1987 was up at the North East side of the property. This section is used for travel trailers, park models and RV parking. There are sixty permanent sites with some lots sanctioned with permanent dwellings that residences homestead and live in year round. Other spaces are offered up for RV lot rent space both seasonal and long term.
Amenities…

The RV Park home owners collaborated to build this elaborate outdoor bar and kitchen cabana for residences to enjoy. It is often used for special community events and block parties. At the South West end of the RV Park is a small pond with a lighted fountain and pier.
The Fountains at Paradise Lakes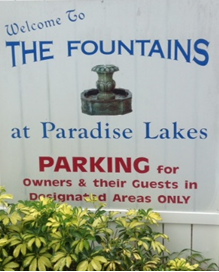 At the turn of the Millennium, work was started on The Fountains. This phase consists of four three story buildings and one four story. A total of seventy one single and two bedroom condos were built. All units were offered car ports with a maximum of two spaces per unit owner. Some two bedroom units convey with only one car port. Most two bedroom units convey with two car ports.
The two bedroom units are eleven hundred and thirty five square feet while the one bedroom units are eight hundred and thirty five square feet. Each building has a dedicated elevator and stair wells and trash shoots at both ends of the building. A golf cart charging station is available at each building.
Amenities…

Amenities…
The Fountains was the first to build a Sun/Patio area. This Patio is the largest in Paradise and has an outside shower, fire pit, BBQ's, a fountain, flag pole, many lounge chairs and tables. Additionally, The Fountains has carports that are designated and owned by each unit. Some have one carport and others have two. A Golf cart charging station is at each building.
The Terraces at Paradise Lakes

The final phase was the Terraces. They were built in 2007. There are three designs in this phase consisting of thirty nine units. Each offer two to three bedrooms, with two bathrooms and at least a one car garage. They vary in size from fifteen hundred and eighty eight square feet to two thousand one hundred and fifty five square feet. Twenty six of the thirty nine units are on the second floor. Thirteen units are on the ground floor and offer bonus space in their very large two car garage. Making these first floor units some of the most highly sought purchases in Paradise. All the other units in this phase have a single car garage with the ability to park a second car in front of the garage.
U. S. Mail…

PLCA The Villages – Phase 3

Park Fountains Terraces
Each community has its own set of U. S. Post Office mail boxes. Mail is delivered six days a week. You can pick your mail up nude but please be respectful of the mail personnel that deliver mail to us in our unique community.
Fed Ex, UPS etc.

Priority delivery companies provide regularly service not only to Paradise but all the nudist communities and resorts with both deliveries and pick-ups.
Delivery Services...

Deliveries to your Door.
Laundry…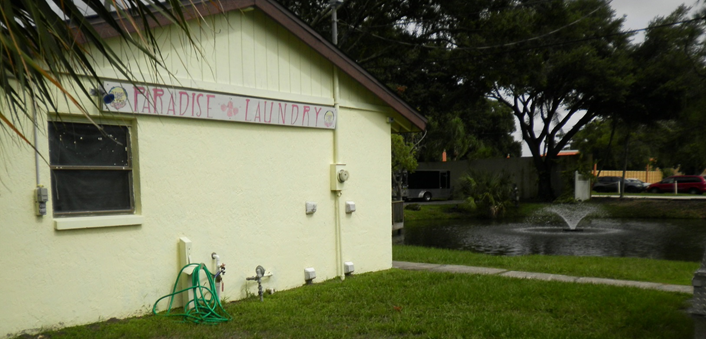 There is a laundry facility located at the entrance to the RV Park. It is owned by the Resort and shared with their housekeeping department. It is open 24/7 and uses quarters. Quarters may be acquired at the Resort's front desk at any time of the day or night.
Recycling…
Being that most residents are environmentally minded Paradise has 2 recycling drop off centers. One is located between the Fountains and the three story "500" building of the Villages. The other is located at the start of the loop road of the vacation condos A – F.
Memorial…
Over the years we have had the pleasure to know many wonderful people. They have touched us in countless ways and have left a beautiful legacy in our hearts. Paradise has a Memorial Garden to honor these precious lives. It is located in a special area at the east end of the Island Condos. Adjacent to it is a Sun Spot for those that wish to reminisce or just find that peace we long for. They were never a stranger in Paradise.

They will live in our hearts forever…

Paradise History
Fred Bischoff lived at Lake Como Family Nudist Resort but dreamed of a creating a place of his own. He wanted a place that would allow the members to have clothing-optional choices. Bischoff was a minister, a stockbroker and a Realtor.
His dream became a purchase on April 11, 1980. A grand opening ceremony for Paradise Lakes was held on Aug. 16, 1980, featuring a water ski show, naked sky divers and an open bar.
The original 42 acres grew to 72 acres and included a beach, a y-shaped pool, a whirlpool, 3 tennis courts and a 4,000 square foot clubhouse. The community's one bedroom, one bath units sold for $24,000 each at the time.
During this time, Bischoff became the president of his daughter's PTA and his wife served as PTA president after him. He decided to expand Paradise Lakes by adding a new pool and a new clubhouse at the entrance, aptly titled Club Fred.
Bischoff decided to go back to his roots as a minister so he left the resort to open a Christian youth camp in Ocala. In May of 1999, Fred sold his interest in Paradise Lakes to Joe Lettelleir and his partners.
Lettelleir improved the property by adding two new condominium areas called the Fountains and the Terraces, and added an 81-space RV park. He upgraded the clubhouse and the members renamed the facility L'attitudes, following a naming contest.
On July 11, 2007, Lettelleir sold the naturist facility to John Forier, who bought it "to just have fun." Forier was a retired Colorado developer, part-time resident and a Paradise Lakes club member for more than two years at the time. During his tenure at the Paradise Lakes helm, Forier added a water volleyball pool, the Skydeck overlooking the pool area, many hotel upgrades and a complete renovation of the clubhouse yet again. The new high tech clubhouse was renamed Club Reveal.
Paradise Lakes withdrew from The American Association of Nude Recreation (AANR) in 2009 due to sexually explicit advertisement.
On Nov. 20, 2011, John Forier was killed in a horrific one car accident in Texas. Pam Tanner, John's girlfriend and the editor of Pasco Naturally, died on Dec. 4 due to her injuries in the accident.
Patti and Jerry Buchanan announced their purchase of Paradise Lakes Resort at a huge party on Sept. 22, 2012. The Buchanan's come from Minnesota and are hands-on folks with lots of plans who tell us they have a new attitude!
Many thanks to Mike Adams, Lucy Taylor, Marcia Stone and Chase Squires for their contributions to this history.