Lake Linda Clubhouse and Pool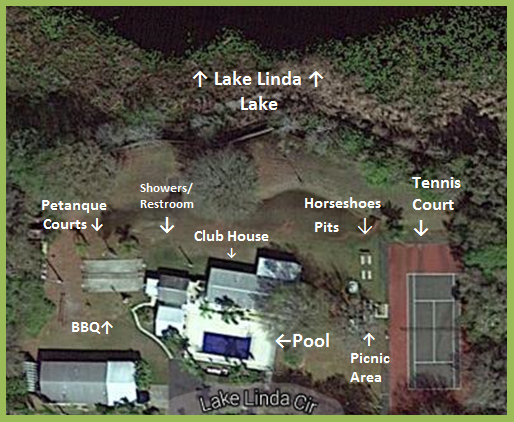 Lake Linda Amenities
Lake Linda is a quaint well-kept nudist community just across and down the street from Lake Como. On July 15, 1996 land was acquired by Lake Linda Circle Development Corp. This lovely community is the results of their endeavors.
The concept was to create a small gated non-assuming community composed of 28 lots. A total of 27 manufactured homes were built. One home is built on 2 lots.
Lake Linda was designed to provide most all the amenities a nudist would want. The photos on this page tells a story of what living here is like.
The focal point is the Clubhouse. Additionally, the residents have available to them a Tennis Court, Horseshoe Pit, Petanque Courts, Pool, BBQ and more.
Enjoy the below photos as they walk you around the community.
The Clubhouse…
Kitchen and the Dinning area. We've had many good eats here!
Game Room, not shown is their Poker Room. Careful! You may lose your shirt in there! LOL. Lake Linda is a Co-op and does a good job of it.
Tennis Court and Horseshoe Pits. Beyond the wall in the back of the left photo is the Lake of Lake Linda. One must be clothed to go there to experience this large lake.
Two Petanque Courts. Notice how beautiful the grounds are in all these photos. The park like atmosphere has plenty of area for adding more amenities.
BBQ and Shower Area. Anyone for BBQ? How about an outside shower? Need to use the rest rooms? They have it all.
Lake Linda's roadway is a loop that upon entering you go to the right then make all left turns until you are back to the entrance/exit. This is also where you get your mail, nude of course.
Pool Area. A few more shots of their inviting pool. To the right is a covered shade area, restrooms and a shower.