Nudist Condos and Villas Diagrams and Floor Plans
Paradise Lakes and Caliente are the only nudist communities with Condos and Villas. Some of the floorplans shown below are of poor quality. When I can locate better quality copies I will replace them.
I have been able to display all the condos and villas with the exception of buildings 1 thru 4 in phase 3. Those drawings that are available are compressed from very large and highly detailed prints that when reduced to computer display are totally unreadable.
Never the less, we have the rest and they are useable. These and the notes we have added should give you a very good idea of each unit.
Paradise Lakes here are the floorplans in there order of development:
PLCA – Paradise Condo Assoc.
Vacation Condos 456 Sq. Ft.
Townhomes 1,180 – 5,283
2 Bedrooms 1,180 Short 2nd Floor
3 Bedrooms 1,300 Mostly covered 2nd Floor
3 Bedrooms 1,476 & 1,526 Full 2nd Floor
Pool Townhomes 5,284
Villas 665
Phase 3 – The Key West Condos
Buildings 1 – 4 1,371-2,357
500 Building
Studio 392
1 Bedroom Interior 588
1 Bedroom End 724
The Fountains
1 Bedroom 835
2 Bedroom 1,135
The Terraces
2 Bedroom 1,588
3 Bedroom 1st Floor 1,965
3 Bedroom 2nd Floor 2,155
Caliente there are Condos and Villas
1 Bedroom 750
2 Bedroom 1,128
Villas 2,301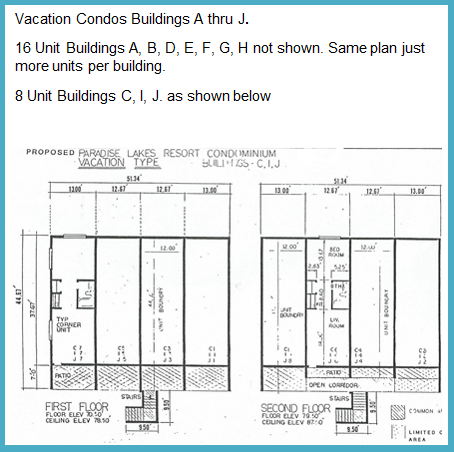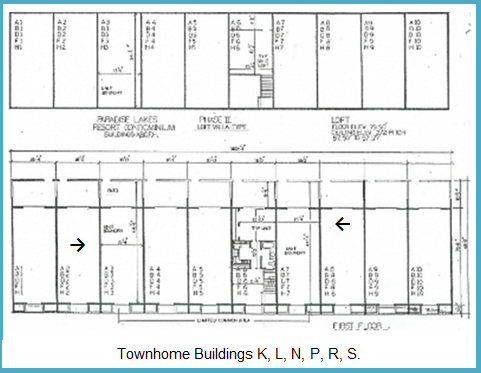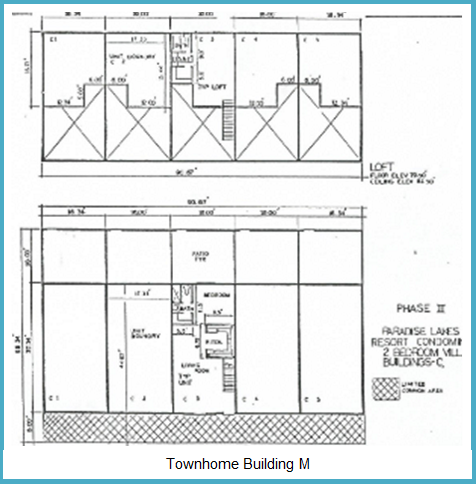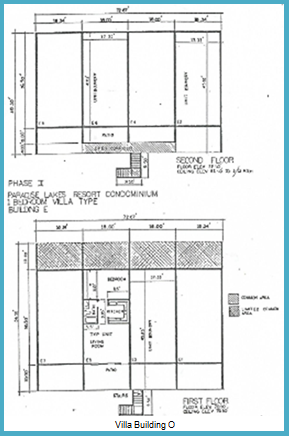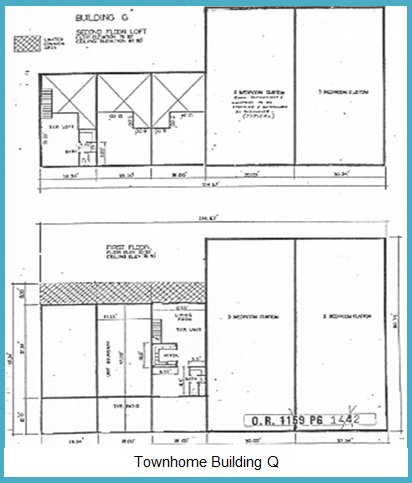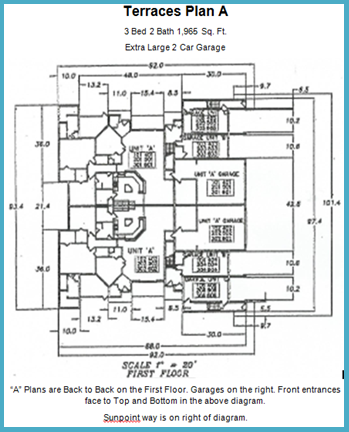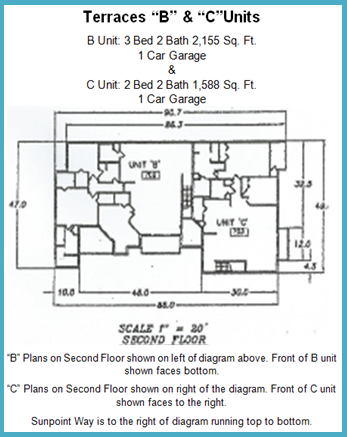 Paradise Lakes Phase 3 - 500 Building
This floorplan is of the "500" building. Phase 3, A.K.A. The Key West Condos. It is a 3 story 27 unit building with an elevator located at the crux of the building. There are 3 floorplan styles; 1) a studio with 392 square feet, 2) a one bedroom at 588 square feet, 3) a larger one bedroom at 724 square feet. All have the same kitchen and bath arrangement. The end units away from the elevator are the largest units.
The bottom left to right section is all one bedrooms (2) with the exception of the one at the bottom left corner of this drawing. The top right corner shows a (3) unit with a (2) next to it and the rest are studios (1).