List of Do's and Don'ts after applying for your home loan
Don't close out any of your credit cards because this can lower your credit score
Don't pay off any collections without checking with us first because this can lower your credit score.
Don't add or apply for any unnecessary credit without checking with us first- i.e. buy a new car, sign up for a 12 month's same as cash purchase, another mortgage, get a personal loan, apply for new credit cards, etc…
Don't change your job or quit without checking with us first
Don't make any unnecessary purchases in general because the stronger your assets (money in your bank accounts, retirement funds, stocks, etc…) the better your loan file will look to the underwriter
Do Any deposits that are made into any bank accounts need to be able to be sourced as to where the funds came from and what they were for, so no cash deposits
Do Keep your last 2 years W-2's and tax returns, paychecks, bank statements, or any other new asset statements where you can find them up until we get to closing because we will need them when we find a home and go to submit your loan to underwriting
Do Get us any documents that we request in a timely manner
Do Have enough money available to cover your earnest money deposit, appraisal fee, and for your home/termite inspection when you find a home that you want to purchase. These will usually total a minimum of $1,000-2,500 depending on the transaction
**You can also opt out of receiving all the mail solicitations that you currently receive at your home along with telemarketing phone calls by going to this website- www.optoutprescreen.com. This should only take you about 1-2 minutes to complete for all borrowers who will be on the loan. There will be three options- Permanent Opt Out, Opt Out for 5 years, and Opt In, and the one you want is the Permanent Opt Out because that one can help increase your credit score anywhere from 5-20 points within a 6 week period about 80% of the time. All you will need to do is fill out the short form online, print the form out, sign it, and mail it in to the address provided on the form you sign. Try to do this sooner than later, so we have the best shot to get your credit score as high as possible.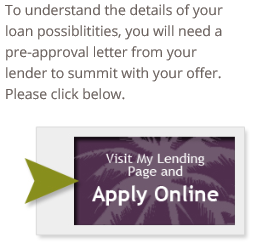 BLISS MORTGAGE
5331 Primrose Lake Circle Suite 244 Tampa, FL 33647
Phone: 813-966-1888 E-mail: gerald.bliss@gmail.com